Porsche 917/10-002
Competition Group: Interserie/CanAm
Constructed For: Porsche AG
Engine Specification: 5.0 liter, normally aspirated. Later fitted with 5.0 liter turbo.
Ownership History: Porsche AG (1971), STP Porsche Audi Racing (1971), Bosch Racing (1972), Willi Kauhsen (1973), McCaw (2001)
Competition Highlights: One overall win and numerous podium finishes.
Chassis Notes:
PREPARED FOR THE 1971 CAN-AM SERIES. PRACTICED AT WATKINS GLEN IN WHITE THEN REPAINTED IN FLUO RED.
TEAM STP PORSCHE AUDI, DRIVEN BY JOSEPH SIFFERT WITH 5000 CC ENGINE. CAR #20:
07-24-71, WATKINS GLEN CAN-AM (3rd, 80 LAPS-9th IN QUALIFY 1:08.64)
08-22-71, MID-OHIO CAN-AM (2nd, 78 LAPS-12 IN QUALIFY 1:31.863)
08-28-71, ELKHART LAKE CAN-AM (2nd, 49 LAPS-6th IN QUALIFY 2:12.242)
09-12-71, DONNYBROOKE CAN-AM (5th, 69 LAPS-10th IN QUALIFY 1:32.659)
09-26-71, EDMONTON CAN-AM (4th, 78 LAPS-11th IN QUALIFY 1:26.7)
10-17-71, LAGUNA SECA CAN-AM (5th, 88 LAPS-14th IN QUALIFY 1:03.22)
SOLD TO WILLI KAUHSEN (TEAM BOSCH) FOR 1972 INTERSERIE SERIES. PAINTED YELLOW AND RED. 5000 TC ENGINE FITTED:
04-3-72, NURBURGRING INTERSERIE (#11 - 2ND IN RACE, KAUHSEN)
05-01-72, IMOLA INTERSERIE (1st IN RACE, 60 LAPS IN 1h 33m 2.1s - 194.168 KPH - 4th IN QUALIFY 1:31.01-5000 CC ENGINE)
05-21-72, SILVERSTONE INTERSERIE (DNF IN RACE-1st IN QUALIFY 1:20.0-5400 CC ENGINE)
07-09-72, OESTERREICHRING INTERSERIE (2nd IN RACE, 34 LAPS IN 59m 38.57s-1st IN QUALIFY 1:38.60-5000 TC ENGINE)
07-16-72, HOCKENHEIM INTERSERIE (2nd IN RACE-1st IN QUALIFY 1:58.1-5000 TC ENGINE)
08-06-72, NORISRING INTERSERIE (2nd, 140 LAPS IN 2h 6m 49.4s-3rd IN QUALIFY :51.7-5000 TC ENGINE)
08-27-72, KEIMOLA INTERSERIE (2nd IN RACE, 5000 TC ENGINE)
09-24-72, NURBURGRING INTERSERIE (#11-DNF IN RACE, ACCIDENT-1st IN QUALIFY 7:23.8)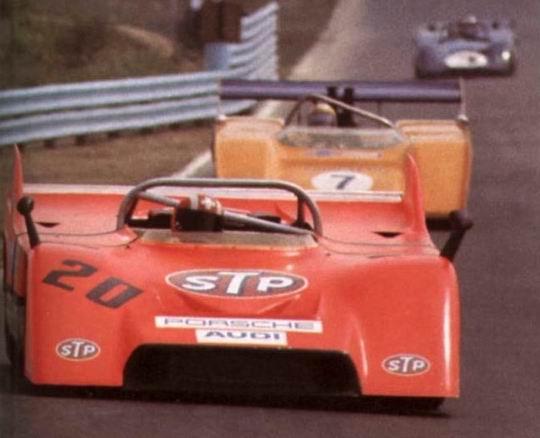 917/10-002 at Watkins Glen 1971