Porsche 917-043
Competition Group: 5
Constructed For: Martini Racing
Engine Specification: 4,494cc, 580hp, later upgraded to 4.9 liter
Ownership History: Martini Racing (1970), Porsche AG (1971), John Wyer Racing (1971), Porsche AG (1972), as chassis 044 Vasek Polak (1975), Symbolic Motors (1999), as chassis 043 Simeone (2001)
Competition Highlights: 2nd at LeMans 1970
Chassis Notes: LONG TAIL 1970 VERSION.
SOLD TO MARTINI RACING TEAM. PAINTED PURPLE WITH WHITE "PSICADELIQUE" ACCENTS. PRACTICED AT LE MANS, THEN PAINTED PURPLE WITH GREEN "PSICADELIQUE" ACCENTS FOR LE MANS 24 HOURS IN 1970. 4500 CC ENGINE, GOODYEAR TIRES:
06-13+14-70, LE MANS 24 HOURS (#3, LARROUSSE-KAUHSEN, 2nd-2822 MILES - 117.59 MPH, 12th IN QUALIFY-3:30.8)
ENTERED BY PORSCHE AG AT LE MANS TEAST WEEKEND IN 1971. WHITE, FIRESTONE TIRES, 4900 CC ENGINE:
04-17+18-71, LE MANS TEST WEEKEND (#21, OLIVER-VAN LENNEP, 03:13.6)
SOLD TO JOHN WYER-GULF TEAM. LIGHT BLUE WITH ORANGE STRIPE:
06-12+13-71, LE MANS 24 HOURS (#18, RODRIGUEZ-OLIVER, DNF, 1st IN QUALIFY-3:13.9)
REPRESENTED AS NEW AND SOLD WITH CHASSIS PLATE 917-044 TO VASEK POLAK IN 1975. PURCHASED BY SYMBOLIC MOTORS IN 1999 WHO CHANGED THE CHASSIS IDENTIFICATION BACK TO 917-043.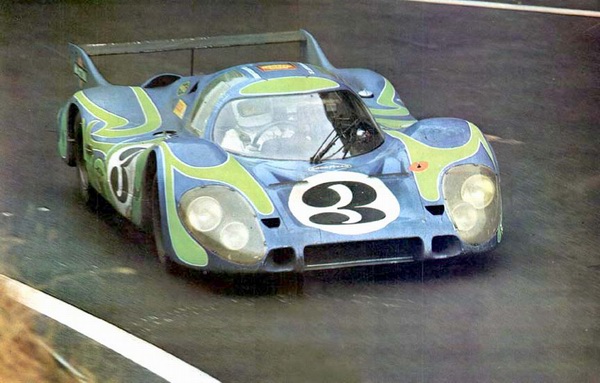 043 at LeMans 1970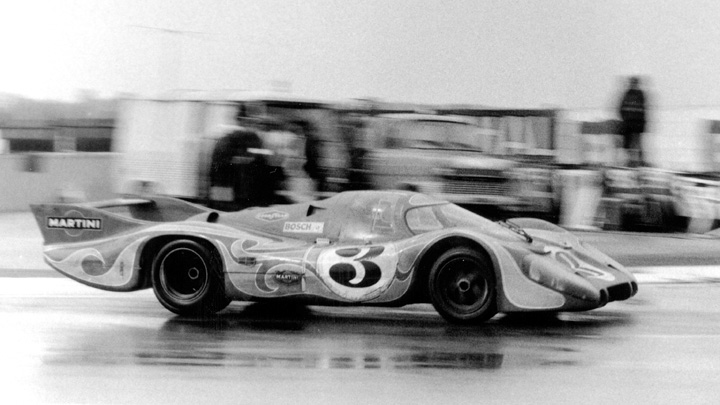 043 at LeMans 1970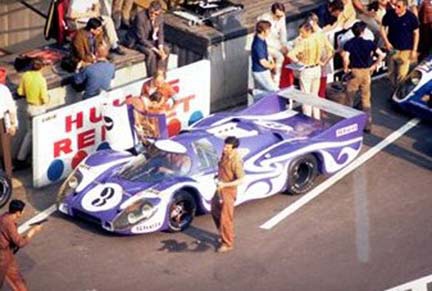 043 at LeMans Practice 1970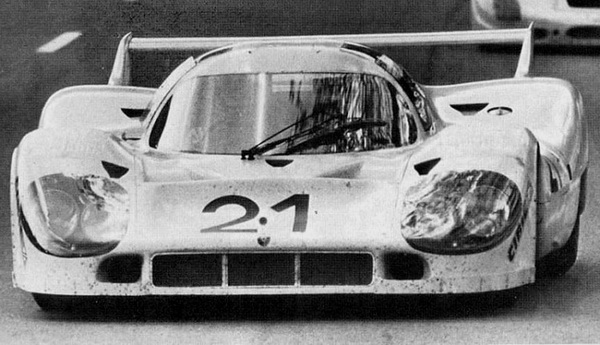 043 at LeMans Test 1971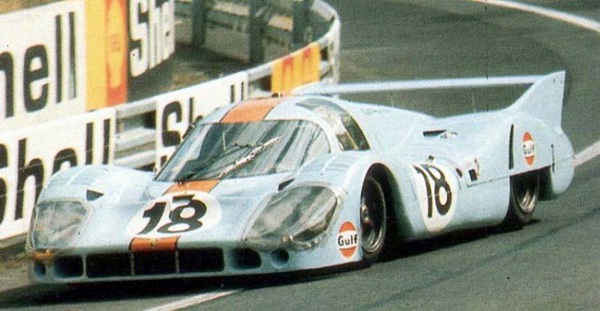 043 at LeMans 1971