Porsche 917-030
Competition Group: 5
Constructed For: Porsche AG
Engine Specification: unknown
Ownership History: Porsche AG (1971), Martini Racing (1971), Porsche AG (1971), Count Rossi (1975)
Competition Highlights: None
Chassis Notes: "K" 1970 VERSION.
SOLD TO MARTINI RACING. PAINTED WHITE WITH RED, LIGHT BLUE AND BLUE STRIPES. 5000 CC ENGINE, FIRESTONE TIRES, ANTI-LOCK BRAKING SISTEM:
06-27-71, ZELTWEG 1000 KMS (#28, LARROUSSE-MARKO, DNF-SUSPENSION, 3rd IN QUALIFY-1:41.61)
CAR USED FOR TESTING THE ABS FOR FUTURE USE ON ROAD CARS. CONVERTED INTO ROAD CAR FOR COUNT ROSSI. USA REGISTRATION.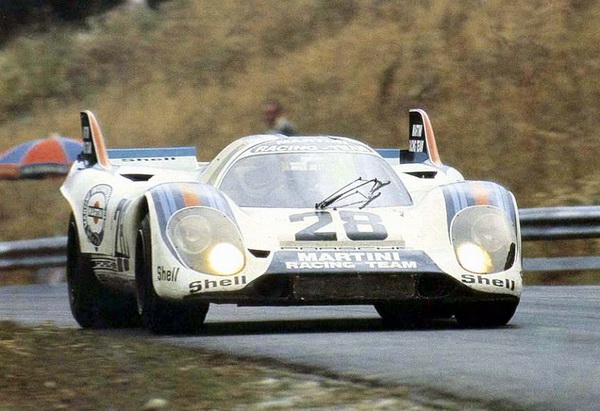 030 at Zeltwig 1971