Porsche 917-025
Competition Group: 5
Constructed For: Porsche AG
Engine Specification: 4,494cc, 580hp
Ownership History: Porsche AG (1969), Zitro Racing Cars (1970), Emerson Fittipaldi, Miles Collier (1988)
Competition Highlights: Podium finish at Montlhery, tested at LeMans.
Chassis Notes: LONG TAIL 1969 VERSION.
CONVERTED INTO 1970 "K" SPECIFICATIONS. SOLD TO TEAM ZITRO (SWITZERLAND). PAINTED WHITE WITH BLUE STRIPES. GOODYEAR TIRES.
07-05-70, HOCKENHEIM INTERSERIE (DOMINIQUE MARTIN, 11th-29 LAPS, 13th IN QUALIFY-2:15.4)
09-13-70, IMOLA 500 KMS (#4, MARTIN-VACCARELLA, DNF-CRASH, 6th IN QUALIFY-1:36.9)
10-04-70, MONLTHERY (DOMINIQUE MARTIN, 3rd)
10-18-70, MONTLHERY (#4, MARTIN-VACCARELLA, DNS-ENGINE,)
01-10-71, BUENOS AIRES 1000 KMS (#34, MARTIN-BREA, 9th-145 LAPS, 19th IN QUALIFY-2:01.98)
04-17+18-71, LE MANS TEST WEEKEND (DOMINIQUE MARTIN, LAP IN 3:51.7)
04-25-71, MONZA 1000 KMS (#5, MARTIN-PILLON, 9th-154 LAPS, 15th OVERALL-1:48.40)
05-02-71, IMOLA INTERSERIE (DOMINIQUE MARTIN, 9th-57 LAPS, 14th IN QUALIFY-1:44.95)
05-08-71, SPA 1000 KMS (#24, MARTIN-PILLON, DNF, 11th IN QUALIFY-3:40.7)
06-12+13-71, LE MANS 24 HOURS (#57, MARTIN-PILLON, DNF, 18h IN QUALIFY-3:43.3)
AT ONE TIME CAR HAD SERIAL PLATE 917-024. CORRECT 915-025 PLATE IS NOW ON THE CAR.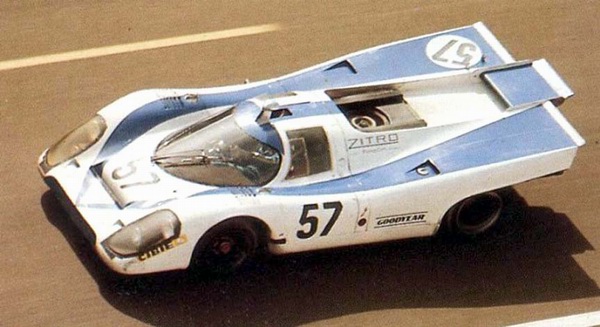 025 at LeMans 1971