Porsche 917-023
Competition Group: 5
Constructed For: Porsche AG
Engine Specification: 4,494cc, 580hp; upgraded to 4.9 liter
Ownership History: Porsche AG (1969), Porsche Salzburg (1970), Vasek Polak (1973), Matsuda Collection (1982), Julio Palmaz (2000)
Competition Highlights: Winner of the 1970 LeMans 24 hours
Chassis Notes: LONG TAIL 1969 VERSION.
CONVERTED INTO 1970 "K" SPECIFICATIONS. SOLD TO PORSCHE SALZBURG TEAM. PAINTED SOLID WHITE. GOODYEAR TIRES.
COMPLETE RACE RECORDS DO NOT EXIST BOTH FOR SALZBURG AND MARTINI.
04-12-70, BRANDS HATCH 1000 KMS (#11, ELFORD-HULME, 2nd-230 LAPS, 3rd IN QUALIFY 1:28.8)
04-25-70, MONZA 1000 KMS (#, ELFORD-AHRENS, DNF-CRASH, 3rd IN QUALIFY 1:25.82)
05-17-70, SPA 1000 KMS (#28, ELFORD-AHRENS, 3rd-70 LAPS, 12th IN QUALIFY-3:40.5, 4900 CC ENGINE)
PAINTED RED WITH WHITE STRIPES, 4900 CC ENGINE.
06-13+14-70, LE MANS 24 HOURS (#23, HERRMANN-ATTWOOD, 1st-2863 MILES - 119.29 MPH, 14th IN QUALIFY-3:31.5, 4500 CC ENGINE)
SOLD TO MARTINI RACING, PAINTED SILVER WITH RED, LIGHT BLUE AND BLUE STRIPES. FIRESTONE TIRES, 4900 CC ENGINE:
o1-30+31-71, DAYTONA 24 HOURS (#4, ELFORD-VAN LENNEP, DNF-FLAT TIRE, 11th IN QUALIFY-1:45.39)
SOLD TO VASEK POLAK, CALIFORNIA (USA). SOLD TO MATSUDA. SOLD TO PALMAZ.
IN THE TRANSACTION BETWEEN POLAK AND MATSUDA, POLAK SWITCHED CHASSIS PLATES BETWEEN 023 AND 020 (THE 1971 SEBRING WINNER). LATER THIS SWAP WAS REVERSED AND HAS BEEN FULLY DOCUMENTED AND DETERMINED (IN COURT) TO HAVE BEEN CORRECTLY ASSIGNED.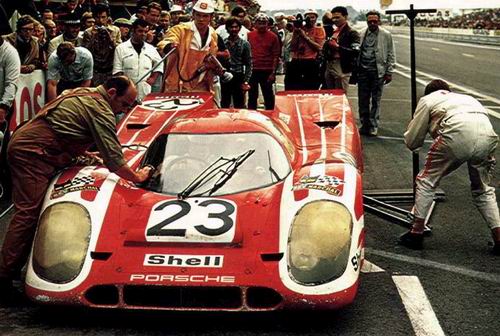 023 at LeMans 1970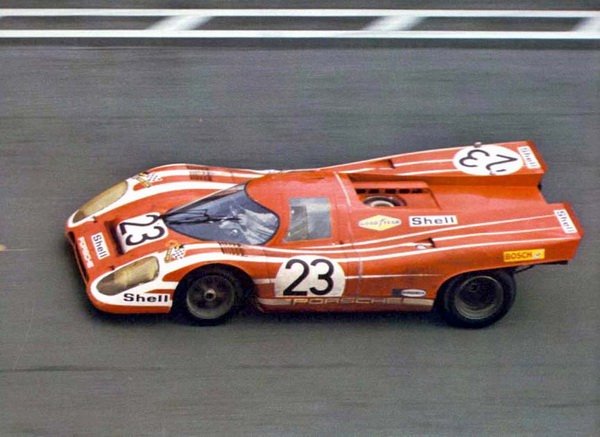 023 at LeMans 1970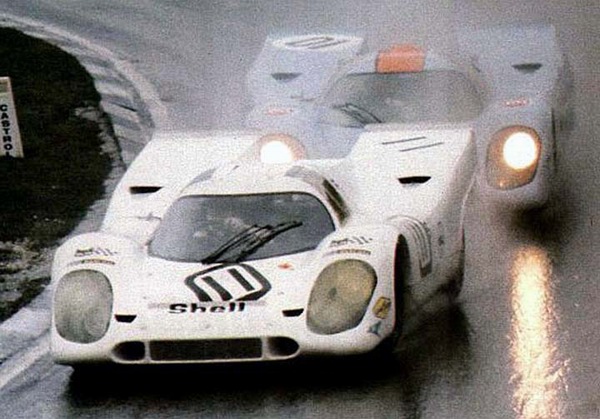 023 at Brands Hatch 1970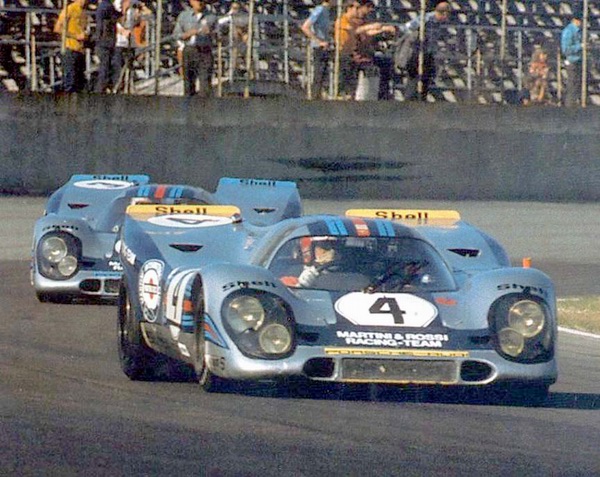 023 at Daytona 1971