Porsche 917-013
Competition Group: 5
Constructed For: Porsche AG
Engine Specification: 4,494cc, 580hp
Ownership History: Porsche AG, JW Automotive (1970), Solar Productions (1970), scrapped and rebuilt, JW Automotive (1971), Porsche AG (1972), Stoic Racing/Mark Finburgh (1973)
Competition Highlights: Competed at Sebring and won twice in Europe. Was the 917 crashed by David Piper in the movie LeMans.
Chassis Notes: LONG TAIL 1969 VERSION. ALSO SEE CHASSIS 034.
CONVERTED INTO 1970 "K" SPECIFICATIONS. PAINTED LIGHT BLUE AND ORANGE (JOHN WYER-GULF).GOODYEAR TIRES:
1-31+2-1, DAYTONA 24 HOURS (#T, SPARE CAR, EXTRA WINDOW ON ROOF)
03-21-70, SEBRING 12 HOURS (#15, RODRIGUEZ-KINNUNEN, 4th-244 LAPS, 5th IN QUALIFY-2:36.31, ENG #36, GRBX #37. PART ON ROOF PAINTED IN YELLOW, WHERE THE EXTRA WINDOW AT DAYTONA WAS)
USED TO FILM THE MOVIE "LE MANS" BY STEVE MC QUEEN. IT WAS HEAVILY CRASHED BY DAVID PIPER AT "ARNAGE" CORNER. DAVID PIPER LOST A LEG IN THE INCIDENT. THE CAR WAS RETURNED IN STUTTGART FOR REPAIRING. BODY AND CHASSIS WERE REPLACED WITH #034 THEN RENUMBERED AS # 013. FIRESTONE TIRES, 4900 CC ENGINE.
ORIGINAL CHASSIS #013 WAS SCRAPPED. THIS MAY BE THE CHASSIS OWNED BY BILL BRADLEY IN ENGLAND. IT SHOULD CARRY # 034.
1-30+31-71, DAYTONA 24 HOURS (#2, RODRIGUEZ-OLIVER, 1st-688 LAPS 2621.28 MILES - 112.5 MPH, 2nd IN QUALIFY-1:43.68, ENG #50, GRBX #68)
5000 CC ENGINE FITTED:
04-25-71, MONZA 1000 KM. (#2, RODRIGUEZ-OLIVER, 1st-174 LAPS IN 4h 14m 32.6s - 146.571 MPH, 5th IN QUALIFY-1:35.74, ENG #46, GRBX #73 FASTEST LAP OF THE RACE RODRIGUEZ 1:24.0, 153.155 MPH)
06-27-71, ZELTWEG AUSTRIAN 1000 KMS (#16, RODRIGUEZ-ATTWOOD, 1st-170 LAPS IN 5h 04m 26.1s - 198.06 KPH, 1sT IN QUALIFY-1:39.49,
ENG #6, GRBX #74)
10-12-71, BARCELLONA 10000 KMS (#24, BELL-VAN LENNEP, 2nd-259 LAPS, 3rd IN QUALIFY-1:33.8, ENG #50, GRBX #74)
10-17-71, MONLTHERY PARIS 1000 KMS (#4, BELL-VAN LENNEP, 1st-128 LAPS IN 6h 14m 22.8s
161.177 KPH, 3rd IN QUALIFY-2:30.9, ENG #50, GRBX #70)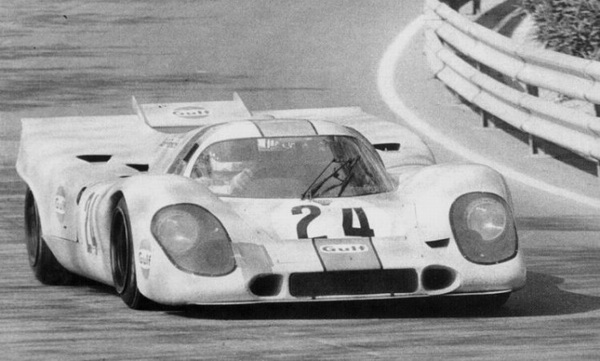 013 at Barcelona 1971