Porsche 917-009
Competition Group: 5
Constructed For: Porsche AG
Engine Specification: 4,494cc, 580hp
Ownership History: Karl von Wendt (1969), Porsche AG (1970), JW Automotive (1970), scrapped
Competition Highlights: The first 917 to win a race overall.
Chassis Notes: LONG TAIL 1969 VERSION.
CONVERTED TO "K" VERSION. WIDER REAR WHEELS, WIDER REAR FENDERS. TWO MORE AIR DUCTS ON NOSE. LOUVERS ON FRONT FENDERS.
OWNED BY PORSCHE AG ENTERED AT ZELTWEG BY KARL VON WENDT, WHITE WITH GREEN ACCENTS ON FRONT FENDERS
08-10-69, ZELTWEG AUSTRIAN 1000 KMS (#29, SIFFERT-AHRENS, ENG #18, GRBX #22, 1st-170 LAPS IN 5h 23m 36.98s, 4th IN QUALIFY-1:48.4)
CONVERTED INTO 1970 "K" SPECIFICATIONS. PAINTED LIGHT BLUE AND ORANGE (JOHN WYER-GULF). GOODYEAR TIRES:
03-21-70, SEBRING 12 HOURS (#14, SIFFERT-REDMAN, ENG #31, GRBX #42, DNF, BROKEN RIGHT FRONT HUB, 2nd IN QUALIFY-2:34.47).
04-25-70, MONZA 1000 KMS (#8, SIFFERT-REDMAN, ENG. #29, GRBX #42, 12th OVERALL-158 LAPS, 1st IN QUALIFY-1:25.21, FIRESTONE TIRES FROM NOW ON).
03-20-71, SEBRING 12 HOURS (#2, RODRIGUEZ-OLIVER, ENG #31, GRBX #72, 4th-248 LAPS, 3rd IN QUALIFY-2:33.84, 4900 ENGINE).
CRASHED WITH THE SUNOCO FERRARI 512M. HEAVY DAMAGE ON THE NOSE... FINISHED THE RACE WITH EXTRA LIGHT ON THE FENDER.
SCRAPPED AFTER SEBRING.
FURTHER RESEARCH IS UNDER WAY.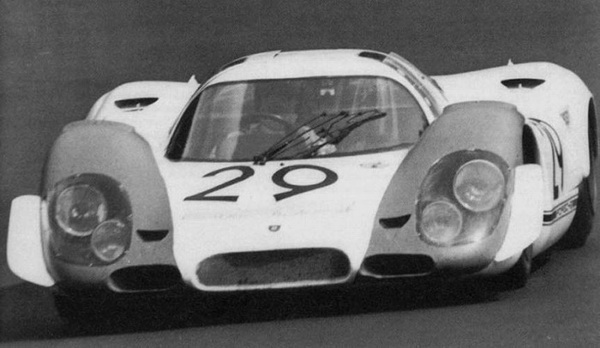 009 at Zeltwig 1969