Porsche 917-008
Competition Group: 5
Constructed For: Porsche AG
Engine Specification: 4,494cc, 580hp
Ownership History: Porsche AG, Porsche Salzburg (1970), Porsche AG (1970), scrapped
Competition Highlights: Competed in 1969 LeMans 24 hours but did not finish.
Chassis Notes: LONG TAIL 1969 VERSION. TWO MORE AIR DUCTS ADDED ON FRONT NOSE WHITE. AFTER THE PRACTICE AT LE MANS THE NOSE OF THE CAR WAS PAINTED IN BLUE:
06-14+15-69, LE MANS 24 HOURS (#12, ELFORD-ATTWOOD, DNF-GEARBOX AT 21st HOURS, 2nd IN QUALIFY-3:26.7).
SESSION OF PRIVATE TEST AT ZELTWEG IN OCTOBER 1969. SHORT TAIL. MODIFICATIONS ON TAIL FABRICATED BY CUOGHI AND DAVIES UNDER HORSMAN`S DIRECTION. THE MODIFICATION ON THE RAISED TAIL WERE INSPIRED BY THE 917-028 (PA-SPYDER) THAT WAS A LOT FASTER WITH THE SAME MECHANIS AS THE "K" ON THE ZELTWEG TRACK.
SCRAPPED AFTER USE IN LONG DISTANCE DYNAMOMETER TEST IN 1970.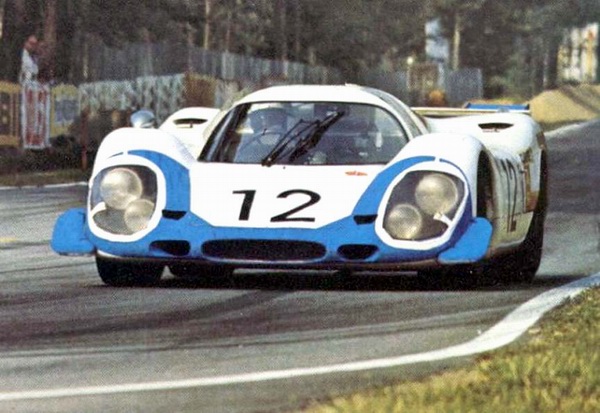 008 at LeMans 1969