Porsche 917-007
Competition Group: 5
Constructed For: Porsche AG
Engine Specification: 4,494cc, 580hp
Ownership History: Porsche AG, Gesipa Racing (1970), Albert Pfuhl (1973), Blatzheim, Rosso Bianco Museum (1991)
Competition Highlights: Competed in 1969 LeMans 24 hours but did not start.
Chassis Notes: LONG TAIL 1969 VERSION. TWO MORE AIR DUCTS ADDED ON FRONT NOSE.
- 06-14+15-69 LE MANS 24 HOURS. (#14, STOMMELEN-AHRENS, DNF AT 14th HOUR-OIL LEAK, 1st IN QUALIFY-3:22.9) IN THE PRACTICE SESSIONS PRIOR TO THE RACE, WHERE THE CAR WAS SOLID WHITE, FIRESTONE TIRES WERE TESTED. FOR THE RACE THE NOSE OF CAR WAS SPRAYED IN YELLOW.
SOLD TO GESIPA AND CONVERTED AS 1970 "K" SPECIFICATIONS. PAINTED BLUE WITH YELLOW STRIPE. ALWAYS USED DUNLOP TIRES.
04-25-70, MONZA 1000 KMS (#14, NEUHAUS-KELLENERS, 10th-162 LAPS, 7th IN QUALIFY-1:27.02)
05-17-70, SPA 1000 KMS (#30, NEUHAUS-KELLENERS, 17th-54 LAPS-4th IN QUALIFY-3:29.7)
05-31-70, NURBURGRING 1000 KMS (#54, NEUHAUS-KELLENERS, DNF-CRASH, 9th-8:17.9)
06-28-70, NORISRING INTERSERIE (#12, NEUHAUS, 1st-82 LAPS IN 1h 48m 18.1s, 6th IN QUALIFY-1:18.5)
07-05-70, HOCKENHEIM INTERSERIE (#16, NEUHAUS, 6th-30 LAPS IN 1h 05m 44.9s, 5th IN QUALIFY)
07-12-70, CROFT INTERSERIE (#22, NEUHAUS, 2nd-25 LAPS IN 26m 51.8s, 3rd IN QUALIFY-1:07.2)
08-23-70, KEIMOLA INTERSERIE (#?, NEUHAUS, 2nd-1h 04m 29.0s, 1st IN QUALIFY-1:15.91)
09-20-70, THRUXTON INTERSERIE (#1, NEUHAUS, 1st-25 LAPS IN 32m 45.6s 117.20 MPH, 1st IN QUALIFY-1:16.2)
10-11-70, HOCKENHEIM INTERSERIE (#62, NEUHAUS, 2nd-74 LAPS, 2nd IN QUALIFY-2:06.0)
10-18-70, MONTLHERY PARIS 1000 KMS (#3, NEUHAUS-KAUHSEN, DNF-CRASH AFTER 96LAPS, 4th IN QUALIFY-2:37.7)

WINNER OF 1970 INTERSERIE CHAMPIONSHIP.
CONVERTED TO SPYDER FOR 1971 INTERSERIE CHAMPIONSHIP, DRIVEN BY MICHEL WEBER:
05-02-71, IMOLA INTERSERIE (#14, WEBER, 6th-59 LAPS, 8th IN QUALIFY-1:37.2)
06-06-71, ZOLDER INTERSERIE (#14, WEBER, 5th-70 LAPS, 9th IN QUALIFY-1:27.3)
4.900 CC ENGINE FITTED FROM HOCKENHEIM ON:
07-04-71, HOCKENHEIM INTERSERIES (#13, WEBER, 4th-30 LAPS IN 1h 2m 40.7s, 8th IN QUALIFY-2:05.3)
07-11-71, NORISRING INTERSERIE (#14, WEBER, 7th-48 LAPS, 6th IN QUALIFY-1:16.3)
08-22-71, KEIMOLA INTERSERIE (#14, WEBER, 5th-69 LAPS, 5th IN QUALIFY-1:15.04)
5.000 CC ENGINE FITTED FROM IMOLA ON:
09-12-71, IMOLA INTERSERIES (#14 WEBER, 6th-39 LAPS, 7th IN QUALIFY-1:33.88)
10-17-71, MONTLHERY PARIS 1000 KM (#5, MARKO-WEBER, DNF-ENGINE 62 LAPS, 1st IN QUALIFY-2:30.5, FASTEST LAP IN THE RACE IN 2:30.3)
CONVERTED BACK TO COUPE BY MR. BLATZHEIM. PAINTED IN THE GESIPA BLUE AND YELLOW COLORS.
LOANED TO BIANCO-ROSSO COLLECTION MUSEUM IN GERMANY (1991).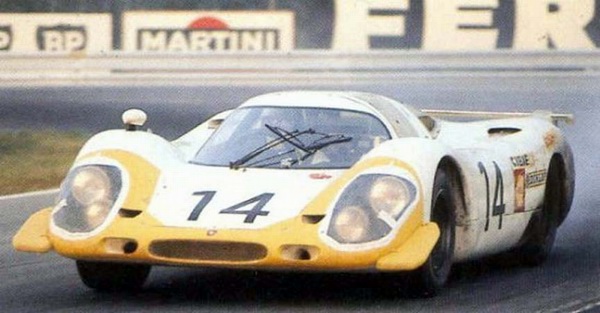 007 at the 1969 LeMans 24 Hours


007 at Montlhery 1970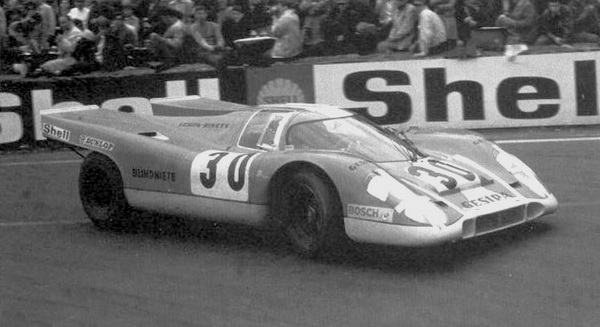 007 at Spa 1970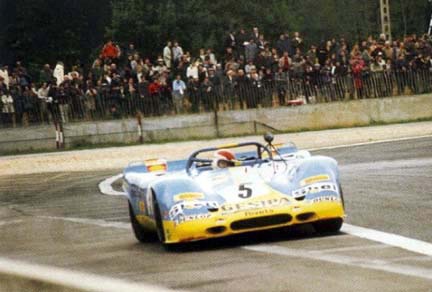 007 at Montlhery 1971