thoughts on the tragedy::
Fellow historic racers:
I have removed the image of the crashed Nissan as I suspect none of us can bear to look at it any longer. I remain, however, committed to seeing some positive change come about as a result of this tragedy.
This incident occurred as another driver attempted to pass Bob during the Thursday test day in a mixed and crowded session on a section of track with no margin for error. The result was the death of one of motor racing's true gentlemen; a loving husband, father, grandfather and mentor to many. It also brought about the destruction of an irreplaceable piece of IMSA history.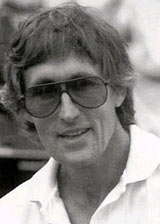 In historic racing, we must constantly remind ourselves and our compatriots that we are not racing as professionals but as caretakers of wonderful machines and participants in a celebration of a glorious era gone by. It does not at all matter who wins or who loses. There are a number of venues for aggressive, go-for-broke, wheel-to-wheel competition. Historic racing does not need to be one of them.
Let us all pray for Bob, Ellen, and the entire Akin family.
Signed,